Are Downtown Businesses Feeling an Additional Loss Without Palmer Students?
As a high school in the heart of downtown Colorado Springs that offers off-campus lunch time, we support downtown businesses every day. It has been six months and counting since Palmer High School students have been on campus which means downtown businesses have lost nearly sixteen hundred customers. In addition, many downtown businesses are now struggling to keep afloat because of Covid-19. Some of those businesses we love are closing. I had the opportunity to speak with a few downtown businesses that are well-loved by Palmer students and here is what they had to say.
Chris, the general manager at Bingo Burger, discussed the struggles of Covid-19 and its effects on local businesses. "The hardest part was trying to keep up with the CDC guidelines to make sure each customer is safe." Chris explained, after asking him what the biggest struggles they faced during the last few months have been. I later asked what the biggest thing Bingo Burger wants students to know upon our return. He stated, "Treat the restaurants with respect. We have never had an issue with Palmer students but now with the mask ordinance put into place, remember businesses can get in a lot of trouble if you don't wear your mask. Please wear your mask and follow guidelines. We really look forward to seeing you guys again because you have been missed."
"We have definitely noticed a missing crowd around lunch time. It was a big time for Palmer high school. A lot of the kids were regulars, and we miss the socialness which we don't have as much since the high schoolers have been gone." emphasized assistant manager Sydney at Solar Roast Coffee, after asking if they have noticed an absence with Palmer being out of school. I then discussed what Palmer needs to know when coming back, Sydney stated, "Watch the number of people in your groups when coming in, there are only six people allowed in line so just be aware. We have lots of tables and would love to see everybody again!"
As all of us know, Covid-19 has made life chaotic and because of this, these businesses have had to cut the customers allowed inside at a time, in half. We all want to support local Downtown businesses more than ever. However, many businesses are not open for customers which means the few that are open and I spoke to, will have longer wait times because of crowd control. We want the safest return possible which means when you are off campus you need to know that masks are required in all businesses, keeping social distance will be guided with stickers on the ground of most, and remember to always be managing your time because lunches are thirty-five minutes.
I spoke to many businesses and the biggest thing they want Palmer students and staff to know is they miss us. They miss the kind hearts and the respectful poise we represent Palmer with. Keep that up Terrors and downtown businesses cannot wait to see each and every one of you upon your return.
Leave a Comment
About the Contributor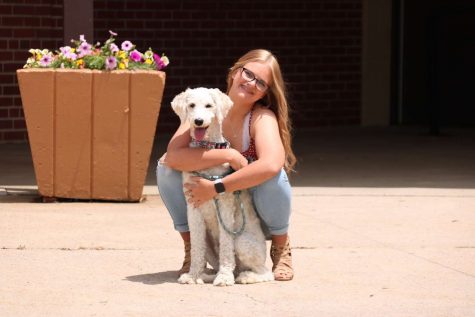 Calandra McLaughlin
She is a senior at Palmer, and this is her second year with Lever. She is a member of Palmer's marching band, head captain for Color Guard, and a member...