What Are Terrors' Favorite Holiday Traditions?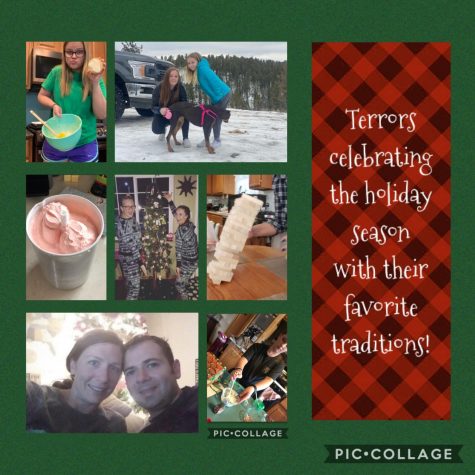 The holidays are a special time for so many; there are so many different traditions which bring memories for all. Traditions can be as simple as hanging up stockings for Christmas, having a feast for Kwanza, lighting the menorah for Hanukkah, and many more. It is obvious that as this year of chaos slowly comes to an end, many people are more eager than ever to get started early with the holiday cheer. We asked Palmer Terrors what their favorite holiday traditions were, and this is what they said.
The most common answer was going and picking out just the right Christmas tree, real or fake. The runner up was baking delicious treats and sharing them. Avery Spicer, a Junior at Palmer said, "For the holidays, my family and I like to make homemade peppermint ice cream and then give it out to friends. It has always been a nice way to give back to the people we care about, and always seems to bring people together. Plus, it is often very rewarding as making several gallons of ice cream from scratch is hard work." Many sent us little things they did with their families that means a lot to them. Ahlora Schulz a senior at Palmer said, "My favorite thing is playing Jenga with my family because we all get to bond over something simple." Little things leave big memories. Makayla Goodhart a Junior at Palmer said, "One thing that has been my favorite tradition since I was little, is every Christmas we get to pick out an ornament and a chocolate advent calendar!"
Traditions contribute to a sense of comfort; they bring families and friends together, which is why so many people hold their traditions close. Mrs. McGilvray, the Digital Media teacher at Palmer says, "My favorite tradition for the last thirteen years has been every Christmas eve, my husband and I sleep next to the Christmas tree." In the heart of each person, a tradition is held that leave memories and experiences that will never be forgotten. Kiera Wrany a Junior at Palmer said, "My favorite holiday tradition would probably be having monkey bread on Christmas morning and having the whole house smell like cinnamon, it makes me happy to know that smell."
As for myself, my favorite holiday traditions are that every Sunday in December leading up to Christmas, my dad and I have Hallmark Christmas movie watch-a-thons with a few of our favorite treats, and then on Christmas we have the Hallmark channel playing in the background all day.  My best friend and I get matching pajama sets each year.
The holidays are going to look different every year, but this year especially. Hold onto those traditions because they bring comfort and a sense of normalcy even in times like these. Happy Holidays Terrors stay safe this season! Keep sharing your fun holiday traditions with us on our Instagram page, @palmer_lever using the hashtag, #phsholidaycheer